Types Of Calamity Relief Blankets Supplied In India
Posted by Admin on December, 17, 2020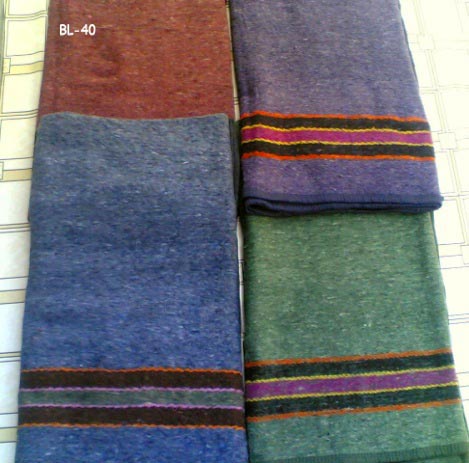 Every country in the world needs to be prepared for different types of man-made and natural disasters and India is no exception. Flood, earthquakes, cyclones, cold waves and all sorts of natural disasters are common in a vast country like India. The relief organisations and the government need to be prepared to help its citizens to survive such disasters. Nowadays, natural disasters are more frequent and impacting in almost every state in the country in one way or the other. Wars, civil wars, accidents, and terrorist acts are also disaster situations and relief blankets are also needed to comfort and keep people safe who are caught up in disaster situations. Relief blankets are a major aspect of providing people protection against the elements against natural disasters and there are many types of relief blankets supplies in India:

Thermal calamity relief blankets

• Thermal blankets are a type of blankets supplied by calamity relief blankets suppliers in India that are very effective in different disaster zones and for different types of climates.
• Thermal blankets are also known as Mylar blankets or emergency blankets that are low weight. These low bulk blankets protect from the weather and keep people warm and safe.
• There are three types of thermal calamity relief blankets available in the market. Low thermal blankets are suitable for areas where the climate is warm or moderate and even during the night, the temperature does not dip that much.
• Medium thermal blankets are more suitable for slightly temperate areas in the country where the temperatures are high in the morning but dip during the night and can get very chilly especially out in the open.
• High thermal blankets are suitable for areas with extreme weather especially hill stations and cold mountainous regions which can get below freezing temperature.

Calamity relief blankets of aid organizations

• Calamity relief blankets are supplied in India to all types of customers. National and international aid organizations need standardized calamity relief blankets which are supplied by calamity relief blankets suppliers in India.
• These calamity relief blankets need to be made according to the guidelines, instructions, and design that are standardized at these aid agencies for relief blankets.
• The size, type of material or thermal fabric used, the color, the organization's logo, and the shape of the calamity relief blanket must all be standardized. If the calamity relief blankets are according to the guidelines they are bought by these organizations in India.
• Some of the common calamity relief blankets supplied to top aid agencies include UNHCR blankets, UNICEF blankets and blankets for other United Nations organizations. Other aid organizations that need these types of blankets include national and international aid organizations like Red Cross, Oxfam, and various organizations that work for disaster relief operations all over the world.

Calamity relief blankets are essential to keep people warm and safe during the time of a manmade or natural disaster or calamity anywhere in the country. These blankets are easy to transport, easy to use and provide a lot of protection to victims of different types of calamities.


This entry was posted on December, 17, 2020 at 18 : 08 pm and is filed under Blankets. You can follow any responses to this entry through the RSS 2.0 feed. You can leave a response from your own site.