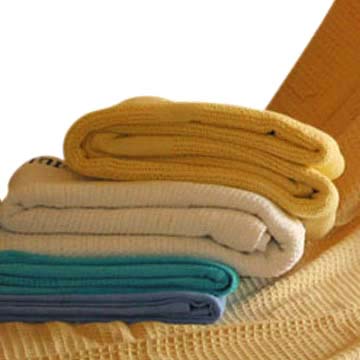 A blanket is a type of bedding. It is a large piece of woven cloth, intended to keep the user warm, especially while sleeping or lying down. These are woven in a way that it traps the radiant heat from the user's body. It makes sure that instead of dissipating into the air, it warms the user.
Blankets are quite different from bed sheets in terms of their thickness and purpose. These are thick materials; even the thinnest blanket is thicker than the heaviest bed sheet. These are generally used to get warmth and comfort. Blankets were traditionally made of wool because of the wool's warmth, breathability, and natural fire-retardant properties. The bed sheets were made of silk, cotton or linen, as these materials are less irritating to the skin. Nowadays, synthetic fibers are frequently used for both.
Many types of blanket materials, such as wool, etc. are used because of their thickness. Cotton is also being used for the development of light-weight blankets. Wool blankets are warmer than cotton blankets.
The most common types of blankets are:
1) Woven Acrylic
2) Knitted Polyester
3) Mink
4) Cotton
5) Fleece And
6) Wool.
Blankets also come with striking craftwork and in exotic material such as silk covering or crocheted Afghan. It is often substituted with a comforter, quilt, duvet, as these all have similar uses.
Manufacturing Hub of Blankets
The city of Haryana is famous for the mass scale production of blankets. It is called the city of the weavers, the city of textiles and carpets. It is the biggest center for quality carpets and blankets in India and has a handloom weaving industry. Haryana is also renowned as the biggest center of "Shoddy Yarn" in the world. Blankets developed through handloom and power loom are usually sent to the soldiers. The Samalkha subdivision of this district is renowned for Foundry of Agriculture instruments. So in a way, this district is continually developing the industrial base. Thus, it has an unlimited employment capacity. Not only from Haryana but businessmen, engineers, and unemployed weavers and labor from other states of India visit here in search of employment and settle here permanently.
There are many manufacturers in Haryana, especially in Panipat, who are in the business of selling and exporting different types of blankets. There is also a boom for online exporters, as people can avail the facility of choosing their favorite blankets online.