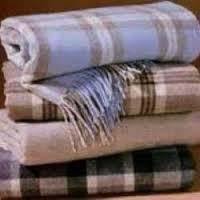 With the passage of time, blankets have almost superseded traditional hand woven buluco, gabi and "bana'. There are many Blanket Manufacturers & Suppliers in Panipat, Haryana. There is also no dearth of Donation Blankets Suppliers & manufacturers in the region. Blankets are usually manufactured in standard sizes, which are defined by surface area and weight of the blankets. These days, one can also buy blankets that are very light in weight. These are manufactured using advanced technology. Get Insights on Blanket Manufacturing! Continue reading!

Standard Size Blankets Manufactured in Haryana
Though the manufacturers also take order for customized blankets, the various standard size blankets manufactured by them are given below:
Usually the standard size blankets have 160x220 mm size.
The family size blankets come in 180x220 mm or 200x220 mm size.

Utilities & Raw Materials Used for Manufacturing
The main utilities required for manufacturing blankets are water and electricity. The raw materials required are given below:
Main Raw Materials: The main raw materials used for manufacturing blankets are cotton yarn, threads, acrylic waste fiber and ribbons.
Auxiliary Raw Materials: Auxiliary raw materials such as hessian cloth, steel strapping and plastic bags are used for packaging purpose.

Production Process
The production process is divided into various steps, which involves opening, blending, carding, ring spinning and cone winding. The use of two-fold cotton yarns is employed for making warps. Weaving of weft and warp is what next follows and it is accomplished usually with the aid of rapier machines. After that the woven blankets are raised, which are later cut and sewn. These are finally packed into bales.

Different Types of Machinery & Equipment Used
The various machinery & equipment used by various manufacturers for making blankets are lattice bed hopper feeder, shaker fear naught, req breaking machine, fearnaught (atomized), compressor, condenser cards, ring spinning frames, cone winding, section wrapper, rapier looms, raising machines, sewing machines, cutting machines, bale press and inspection table.

Manpower Required for Blankets Manufacturing Project
Manpower hired in blanket manufacturing project includes general manager, executive secretary, prod. and technical. manager, commercial manager, administrative & finance manager, production head, technical head, personnel, supervisors, foremen, operators, assistant operators, mechanics, electricians, general service head, store keeper, time keeper etc.

Want to place order for blankets? Several manufacturers in Panipat, Haryana have been engaged in manufacturing superior quality blankets using advanced technology. Customers can place order for various types of blankets such as Relief Blankets, Army & Military Blankets, Hospital Blankets, Airline Blankets, Polar Fleece Blankets, Thermal Blankets, Railway Blankets etc. If you need Soft Blankets For Donation, you can find several reliable Donation Blankets Manufacturers in Panipat, Haryana too!